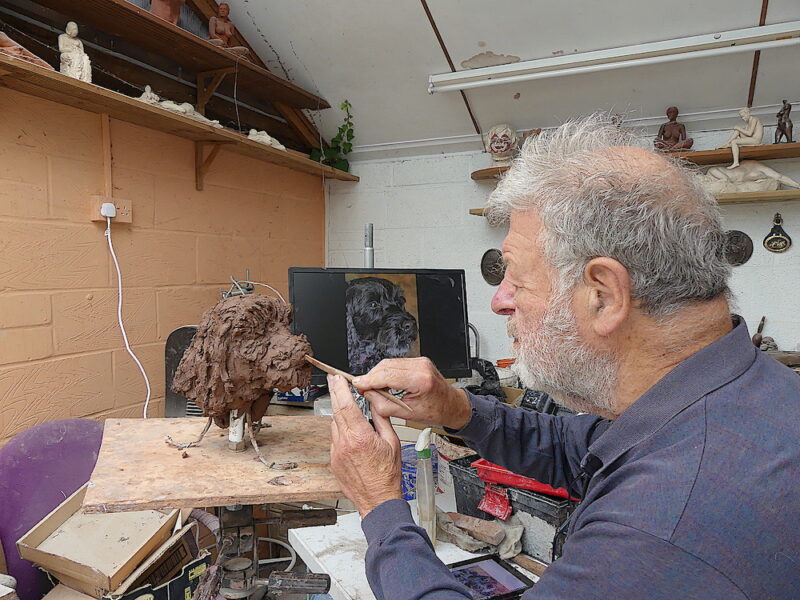 I have been sculpting ever since I got chatting to a sculptor on a delayed train in the seventies. I got to thinking this might be quite a cool thing to do.
After losing my real job for political reasons, I plunged recklessly into full-time sculpture… just in time for the first of several recessions.
Having left the rat-race I found myself in a small mouse-race, eking out a living making replicas and small effigies for the varied museum shops, including The British Museum, Dickens, Nelson and Sherlock Holmes.
I like to create life-size portraits, and to make my figurines pleasing to the eye rather than warts and all.
I work in clay which is then fired or cast in bronze professionally, depending on the depth of my client's pockets.
I make my own moulds and bronze resin castings.
I have recently started experimenting with Jesmonite.
I have even dabbled in small scale ceramic shell real bronze casting.
Recently I went on a stone carving course which I found quite exhilarating.
The original of  Tabula Rasa is made of Italian limestone.
My woodcarvings are done in the company of our local 'Last of the Summer Wine' group.
If one of my sculptures has caught your eye (prices start from £45), or perhaps you are thinking of commissioning a portrait (or any other sculpture really), please contact me and I will be in touch to discuss your project in more detail.